Jeffersontown is a major suburban city within Jefferson County, fueled primarily by business growth and development.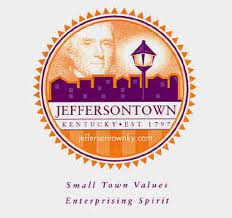 Jeffersontown is home to Kentucky's largest business industrial park, the 1,800-acre Bluegrass Research and Industrial Park. While it includes the name "Industrial," this park is more of a large grassy campus of low-slung buildings housing everything from wedding cake bakers to manufacturers of shrink-wrapping equipment.
There are also several suburban office and commercial parks in Jeffersontown, including Plainview and Blankenbaker Crossings. The Blankenbaker area is also home to one of the top 10 largest churches in the US, the 20,000-member Southeast Christian Church.
In addition, the 1960s development of General Electric's Appliance Park fueled subdivision development in and around Jeffersontown, until it became Kentucky's 14th largest city – and the second largest city, after Louisville, in Jefferson County. Today, approximately 26,500 people call Jeffersontown home.
Jeffersontown celebrates its traditions with an annual week-long Gaslight Festival on its square in mid-September. Gaslight, which started as a street festival, attracts more than 200,000 people with events such as a motorcycle rally, a pipe-smoking contest, a balloon glow, a 5K run/walk race, a Golf Scramble, and a parade. The Festival wraps up with an "arts and crafts extravaganza" of more than 200 juried booths.
Jeffersontown also is host to numerous regional sanctioned baseball and softball tournaments, thanks to its popular Skyview Park complex. Other nearby attractions include the Blackacre Nature Preserve, the Floyds Fork Soccer Complex and the University of Louisville Shelby Campus. Hurstbourne Parkway, especially where it intersects with Shelbyville Road and with Taylorsville Road, is a shopping and dining mecca.
"J-town," as most locals call it, began as a settlement of Virginia, which Kentucky was a part of in the early 1700s. By the end of the 1700s, a 122-acre farm owned by Abraham Bruner was converted into a town initially known as "Brunerstown."
But descendants of the original Virginian settlers preferred to honor that famous Virginian statesman, Thomas Jefferson, and the name Jeffersontown ruled after 1825.
Contact me if you have questions about Jeffersontown real estate, living in Jeffersontown, or Louisville MLS Listings.