The subdivision of Lake Forest is a great place to call home!  Located near Louisville, Kentucky, Lake Forest is one of the premier neighborhoods in the entire region.  Initially developed by NTS in eastern Jefferson County as a large, multi-phase upscale subdivision, Lake Forest has grown to include an Arnold Palmer-designed 18-hole championship golf course, swimming pools, tennis courts, volleyball courts, clubhouses, plus playground areas.  Because of these and other amenities, the subdivision of Lake Forest draws residents from all walks of life who wish to enjoy Louisville's finest neighborhood.
If you are giving consideration to moving, you must give serious consideration to Lake Forest.  With an ideal location just outside of the Gene Snyder Freeway on Shelbyville Road, Lake Forest boasts of convenient access to Downtown Louisville.  In addition, you can easily reach local shopping and amenities such as The Summit and Oxmoor Mall from Lake Forest with a very short drive.  With both Interstate 64 and Interstate 71 close by, residents of Lake Forest are able to travel the region with relative ease.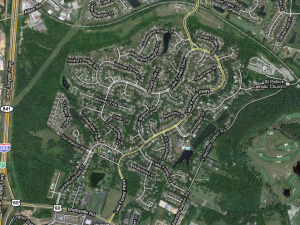 Among the many reasons you should call Lake Forest home, the community lifestyle and the neighborhood activities should be near the top.  With wide, tree-lined streets that feature sidewalks to protect pedestrians, plus numerous walking trails, Lake Forest caters to an active lifestyle that continuously attracts new residents.  And that in itself is a reason to make your new home in Lake Forest.  By having such an influx of new residents drawn by the neighborhood's appeal, home owners in Lake Forest enjoy an active real estate market the supports an upscale subdivision.  Simply put, people want to live in the area and call Lake Forest home.
You don't have to take my word for it, just drive over to the neighborhood yourself.  You will see the beautiful homes, the mature trees, the open green spaces, plus the smiling faces on the residents themselves.  Lake Forest will remain the premier subdivision in Louisville for many years to come and it is certainly a great place to call home!