If you are traveling downtown on Main Street in Louisville, Kentucky you might notice the red penguins on the roof of the building that has a chandelier hanging outside. It is none other than Proof on Main and 21C, the artsy restaurant and bar and the award-winning hotel, respectively. Proof on Main is known for its upscale cuisine and Warhol design as well as art featuring local celebrities.   The 21C is a distinctive Hotel and Art Museum, and the museum's exhibits are modern, innovative, and follow a particular theme.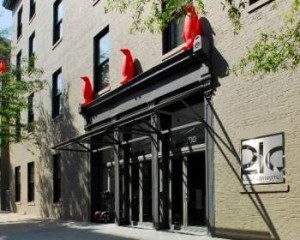 Some of their most-talked about features are their luxurious, art deco rooms and their museum restrooms. Both restrooms have mini televisions in random spots in the wall that have eyes watching you. The men's bathroom has a urinal that faces a window: once a man steps in front of the urinal water begins to fall over the window.
The museum hosts many events and is a part of the Trolley Hop that takes place the first Friday of every month, when new exhibits are featured. Some exhibits featured photography by such local artists as Ben Durham, Gaela Erwin, Letitia Quesenberry and Chris Radtke and their exhibit, Creating Identity: Portraits Today.
The museum is also known for their installations, such as Text Rain, which uses video projection on a wall that allows the viewer to see themselves in the installation being rained on by letters, the viewer can actually catch the text and manipulate the letters into words.
The hotel, restaurant, and museum have been featured in Traveler Magazine and feature some of the most modern and exciting art and designs in the city of Louisville.
To learn more about local attractions and things to do, please visit Louisville Real Estate.